CORAL BAY PUGS & PAPILLONS

Pug Dog Club of America's

'Breeder of the Year'

2001-2002-2005-2008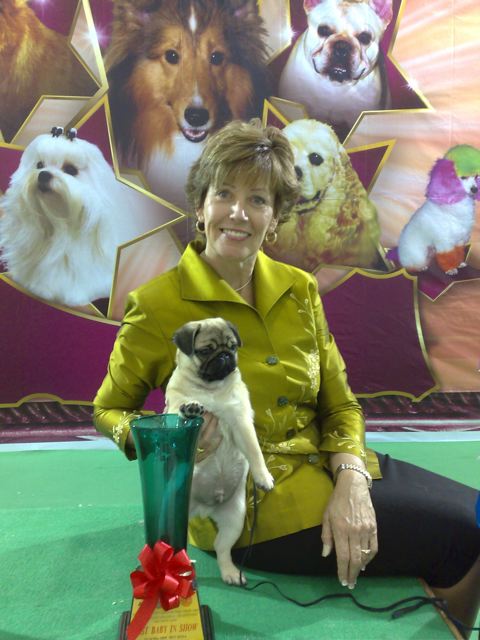 Carol Anne Giles
Breeder - Owner - Handler
since 1988
'Quality BreedingTo Better The Breed'
Coral Bay reg. has proudly finished over 100 pug champions &
is now venturing into the beautiful world of Papillons !
---
Welcome To Coral Bay Pugs & Papillons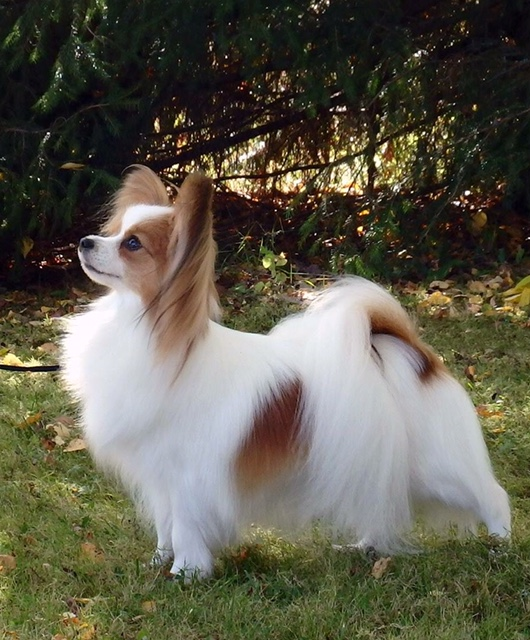 Questions or comments are always welcome
e-mail me at coralbay@prodigy.net
---
BREEDER OF OVER 100 AMERICAN AND INTERNATIONAL CHAMPIONS
MULTI BEST IN SHOW & BEST IN SPECIALTY SHOW WINNERS
copyright © Coral Bay 2016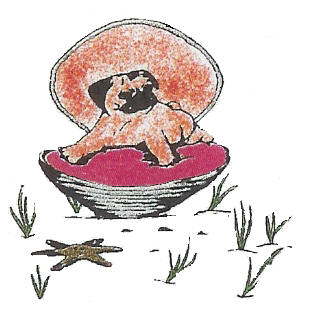 Last updated on 02/14/16
a little about me.....
I'm a happily married woman, (husband Mike), a mother of 2 grown sons, 11 wonderful Grandchildren and 1 gorgeous Great Granddaughter! (humans!!)
My life with Pugs began in 1988 after exhibiting Shih Tzu for several years. I was searching for a second breed with less coat care, yet still a TOY dog to enjoy as a companion. My research led me to the total captivation of the Pug! Once bitten by the Pug – Bug, there was no turning back! Life as I knew it would change forever.
My first 'Show prospect Pug' unfortunately did not turn out, however he was responsible for my complete obsession with this incredible breed. His comical antics and endearing personality convinced me my future in the dog game was definitely in Pugs. In 1990 I purchased a bitch pup that I finished very quickly with three majors including a Specialty five pointer! She was the beginning of my success in this breed. I now have over 100 Champions to my credit, 78 are homebred 'Coral Bay' Champions, most of which were proudly owner handled. I have Coral Bay Champion pugs all over the world, winning and making an impact on the breed I am proud of.
I have been recognized as the Pug Dog Club of America's 'Breeder of the Year' in the years 2001, 2002, 2005 and 2008. I was also chosen by my peers to Judge Sweepstakes at the Pug Dog Club of America's National Specialty 2006, a great honor. I thoroughly enjoyed judging my beautiful entry of 1oo+ pugs. I am an AKC approved Mentor and welcome and enjoy mentoring judges on this delightful breed.
I've had the very good fortune of owning many Best in Specialty Show winners as well as the prestigious Pug Dog Club of America's National Specialty winner and # 1 Pug for 2000, 'Win-De', Champion O-Day's Winning Edge, (co-owned with Carolyn Koch and bred by Sue Tripp). My first owner-handled All-breed Best in Show winner was a bitch named Champion Charlamar's Irish Dream, (co-owned & bred by Charlotte Corson). Being on the other end of 'Irish's' lead that day was truly the highlight of my career and a day I'll never forget!
My pride and joy is multi Best in Show and Best in Specialty Show winning Ch Coral Bay's Super Hero, aka FLASH. This homebred, handsome guy won his first All Breed Best in Show at the tender age of 12 months and 9 days old! Quite an achievement! Flash epitomizes the Pug personality… in every way. He's happy both in and out of the ring and constantly amuses me with his awesome sense of humor! He is also making his mark as an outstanding stud, producing his beautiful movement and magnificent type in his get.
Flash's son, Best in Show and Best in Specialty Show winning Ch Winsome's Trouble at Coral Bay, co-owned with Joe and Carla Sanchez and Virginia Flatley, breeder... out did his Dad by capturing Best In Show his first time out as a special at the age of 11 months! (Handled by me!) Trouble went on to finish 2010 as #5 Pug in the Nation.
I take great pride in striving to breed sound, healthy Pugs with outgoing personalities…who love to show. Pugs are a part of my life that will continue to bring me great joy with their sweet, gregarious nature and most loving, impish personalities. To be owned by a Pug is truly a privilege.
NEWSFLASH! I am now embarking into the beautiful world of Papillons! I have been privileged to import some magnificent paps from abroad as well as a beautiful US pup to kick off my new adventure. Follow us in these pages for exciting news and updates.
CH Coral Bay's Power Ranger was honored with the 'Mary S. Pickhardt Memorial Award' as the American Bred Sire of the greatest number of Champions of Record for the period 2002 thru 2007