Below are some photos of the 2006 Pug Dog Club of America National Specialty Sweepstakes I had the honor to judge.
I'd like to take this opportunity to extend heartfelt thanks to the PDCA membership for both their vote as well as their entries. It was truly a privilege and a pleasure to judge all of your lovely Pugs this year. It was an experience I will always treasure...
My choice for Grand Sweepstakes was the amazingly gorgeous 'Tapestrie Madison Ave'
owners: Cathy & Dale Sunlin
Handler: Chuck Pate
Breeder: C & D Sunlin & K Oliver
Congrats also to Madisons littermates who also caught my eye!
---
Here are some candid shots kindly provided by Nellie & Roland Hofmeister at www.cristar.com
....with more to follow when available.....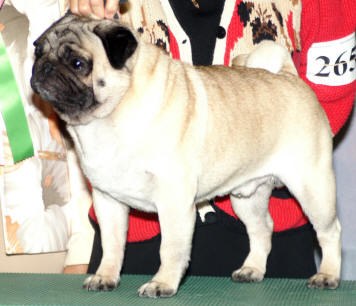 Best Veteran in Sweeps: Ch Jan's Moosetracks
Owners: Janet Plott & Paula Rogers
Handler: Paula Rogers
Breeders: Jan & Ronnie Plott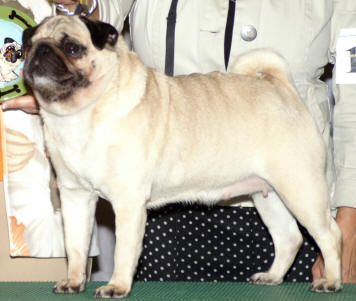 Best of Opposite Sex Veteran in Sweeps: Ch Knick Knack Shenanigan
Owners: S McCarthy Munson & C McCarthy
Handler: Colleen McCarthy
Breeders: Emily Thiel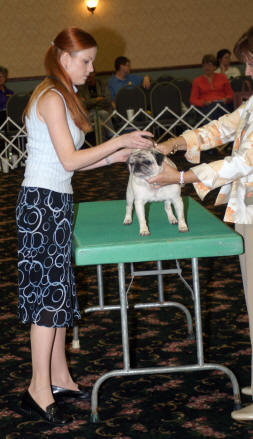 These photos provided by Heidi Fridtjofsen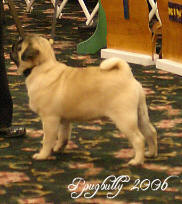 Kendorics Riversong Revelry
Owner: Doris Aldrich & Ann Murphy
Breeder: Doris Aldrich
Handler: Heidi Fridtjofsen