Ch Coral Bay Apache Legend
sire: Ch Glory's Apache ROM* dam: Ch Coral Bay's Spring Fling
'Geronimo'
winning his first 4 shows at 6 months old!!
First show ~ Pug Club of South Florida Specialty ~ 4 point major!
Thank you judge Mr. Raymond Filburn
Second show ~ Boca Raton Dog Club ~ 2 more points!
Thank you judge Mrs Elaine Mathis
then...2 more shows...2 more wins!
Grtr Ft Myers DC...WD, BOW, Best Puppy & Puppy Grp 1
and Grtr Ft Myers DC...WD, BOW, BOB & (real) Grp 4 !
Our boy went on to finish with another 4 point major...another Breed over Special
and a Group 3!
Thank you judges Mrs Carole Beattie, Mr David Krogh, Mrs. Glenda Dawkins and Mrs Sharon Krogh, pictured.
also thanks to judges Frank Sabella, Ruth Prehn and Terri Lyddon.
First weekend out as a young 'special'
BOB & Group 2
Thank you judges Mr Phillip Lanard & Mr Frederickson, pic.
Geronimo is already proven and at stud to approved bitches.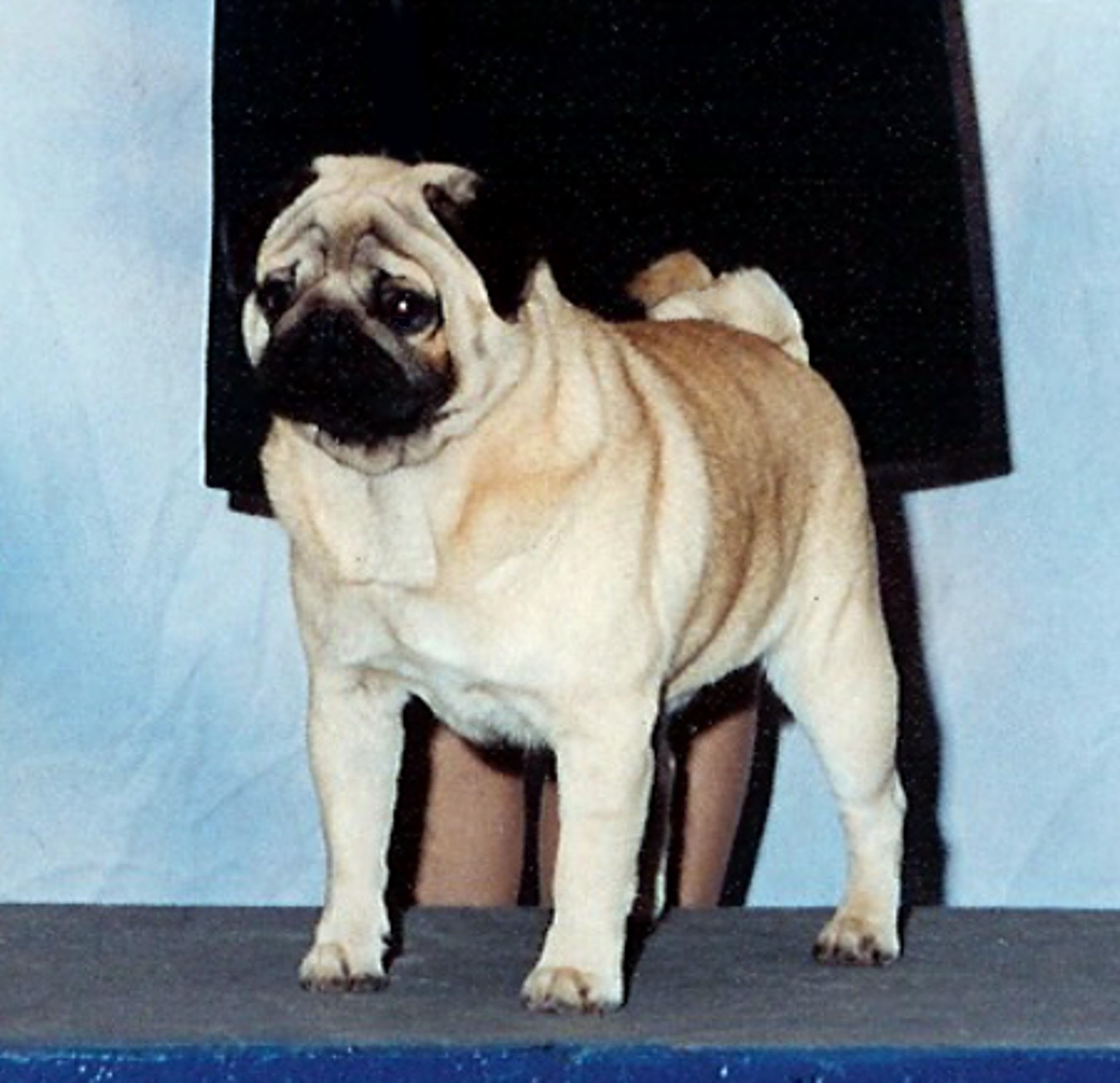 Parents
Grandparents
Great-Grandparents
Great-Great-Grandparents
Great-Great-Great-Grandparents
CH Coral Bay Apache Legend
(Fawn)(Geronimo)
CH. Glory's Apache ROM**
(TN15244305)(Fawn)(Apache)
BIS/BISS CH. Charlamar's Indian Scout ROM*****
(TC960233)(Fawn)(V143249)
CH. Gerrie's Rory Of Charlamar
(Fawn)
CH. Sheffield's Little Red Wagon ROM
(Fawn)
Gerrie's Gypsy Of Charlamar ROM
(Fawn)
CH. Charlamar's Miss Tooie
(Fawn)
CH. Charlamar's J Randall Brown ROM
(Fawn)
Broughcastl Amy Of Charlamar ROM
(Fawn)
CH. Glory's Sadie Hawkins
(Fawn)
CH. Dannah's Smokin' Joe
CH. Sheffield's Jersey Joe Porter
Glory's Bon Bon
CH. Pfau's Lady Gidget Of Gore
Calico Farms Sir Ralph Of Gore
Gore's Legacy Lady
CH Coral Bay's Spring Fling
(Fawn)(Pinky)
BIS/BISS CH Coral Bay's Super Hero
(Fawn)(Flash)( 4/16/2003)
BISS CH. Coral Bay's Power Ranger ROM*
(Apricot)(Ranger)
BISS CH. Hugapugs Sail Away To Coral Bay
(Fawn)(Sailor)
CH. Glory's Chinaberry
(Fawn)
CH Shoreline's Coral Bay Buttercup
(Fawn)
CH Sparkle's Blackberry Wine
(Black)
CH Portly's P-Nut Butter N' Jilli
Coral Bay's Autumn Firefly ROM
(Fawn)(Firefly)
CH. Frodun-Dulittle's All Fired Up
(Fawn)
CH. Ritter's Bruno of Stabradav
(Fawn)
CH. Cotswold LaBounce of Frodun
CH. Coral Bay's Indian Summer ROM
(TN19436502)(Fawn)
BIS/BISS CH. Charlamar's Indian Scout ROM*****
(TC960233)(Fawn)(V143249)
CH. Coral Bay's Christmas Holly
(TM71322603)(Fawn)