Multi Best in Show/Best in Specialty Show Winning
Ch. Coral Bay's Super Hero ROM
sire: BISS Ch Coral Bay's Power Ranger ROM dam:Ch.Shorline's Coral Bay Buttercup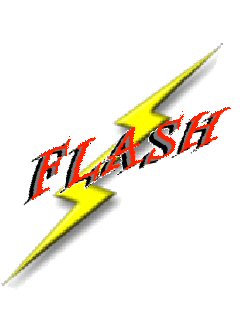 Ch Coral Bay's Super Hero
Coral Bay's first home-bred 'Best in Show' winner,
Flash is everything we look for in a Pug!
He has substance, bone, a magnificent head, outstanding movement...and attitude!
He just loves to SHOW !
Flash is also a multi champion producer
---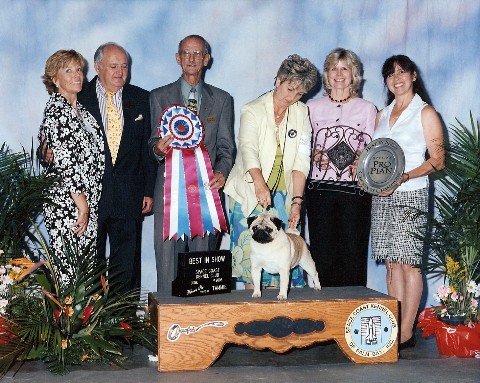 Flash's 4th Best in Show
Thank you BIS Judge Mr Frank McCartha Jr.,
Group Judge Mr. D. McIntyre
and Breed Judge Ms. Jackie Raynor & Fans!!
---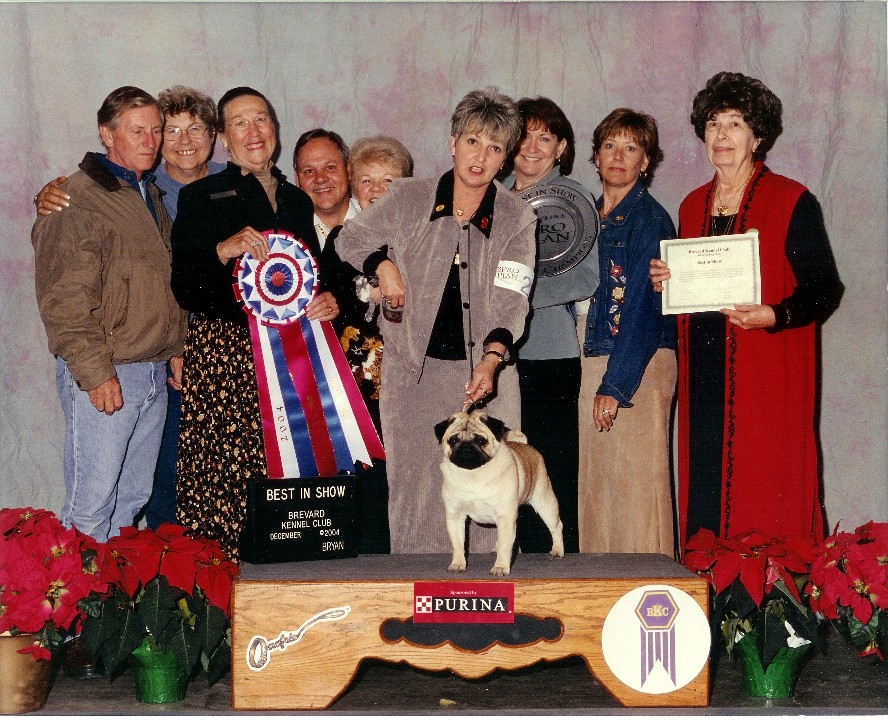 Best In Show #3
Thank You
Best In Show Judge
Mrs. Carolyn Herbel
& Friends !
---
Best In Show #2
Thank You
Best In Show Judge Mrs. Keke Kahn
and
Group and Breed Judge Mr. Thomas Baldwin
---
Flash goes BEST IN SHOW at Treasure Coast Kennel Club 4/25/04
under Judge Stephanie Seabrook Hedgepath, group Judge Carol Beattie
and Breed Judge Sandra Goose Allen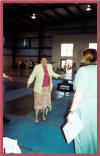 Flash achieved this exciting win at the tender age of 1 year 9 days old
These are candid shots of Flash & Linda's delight
and here's Flash with proud breeder-owner Carol Anne Giles and owner-handler Linda G. Rowell
Judge Stephanie Seabrook Hedgepath and trophy Presenter Deb Shindle

click to enlarge
at 2 years of age...Flash already has an impressive
42 GROUP FIRSTS, 4 BEST IN SPECIALTY SHOWS
&
4 All-Breed BEST IN SHOWS TO HIS CREDIT!!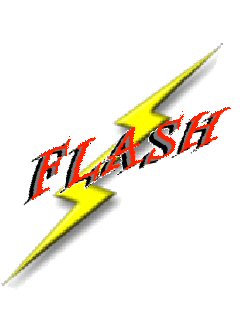 Flash and Linda win
back-to-back AND......
Group I's Flash wins back-to-back
at Greater Orange Park KC! Awards of Merit in NY!
Thank you Group Judge's Mrs. Carolyn A. Herbel, only 9 months old & making an impact!
Mr. Thomas Daniels and Thank you Breeder-judge Mrs. Donnelle Richards
Breed Judge Mr. Alan Harper!!!! and judge Mr. Pineda!!!!
Flash as a pup!
Wow.. Flash at age 6 months goes Best of Breed over a special and Group 2 from the 6-9 puppy class! Thank you Judge Carol Beattie, Seminole Dog Fanciers Assoc. And then...Flash picked up back to back 4 point majors and a 3 point major to finish, all by 7 months of age! First weekend out as a move-up special...2 Breeds and a group 3!
Flash at age 6 months pictured winning under breeder-judge Miss Tina Webb-Heres at the Greater Atlanta Pug Club Specialty.

Flash won Grand Sweepstakes at the National's 3-6 month match
under breeder-judge Linda Freed!
C e r t i f i c a t e o f P e d i g r e e
TN841726/03
BISS WINNER TN741358/04
TN31131806
BISS TN01753303
Black TN15244305
BIS/BISS CD
Black I certify that the information contained herein is accurate: Ch. Charlamar's Indian Scout ROM Ch. Gerrie's Rory of Charlamar Ch. Charlamar's Miss Tooie Ch. Glory's Apache ROM Ch. Glory's Sadie Hawkins Ch. Dannah's Smokin' Joe Ch. Pfau's Lady Gidget of Gore Ch. Hugapugs Sail Away To Coral Bay Ch. Porter's Spirit of Eighty Six Ch. Sheffield's Little Red Wagon ROM Manalapans September Song ROM Ch. Hugapugs Little Bit of Bet Ch. Coral Bay's Power Ranger Ch. Sheffield's Bouncing Bet Ch. Sheffield's Jersey Bounce ROM Ch. Sheffield's Second Sequence Ch. Gerrie's Rory of Charlamar Ch. Sheffield's Little Red Wagon ROM Ch. Charlamar's Indian Scout ROM Gerrie's Gypsy of Charlamar Ch. Charlamar's Miss Tooie Ch. Charlamar's J Randall Brown ROM Ch. Glory's Chinaberry Broughcastl Amy of Charlamar Ch. Warjoy's Axle Grease Ch. Warjoy's Coal Crusher Ch. Glory's Prudence Ch. Glory's Sweetclover Glory's Label Me Libby Ch. Glory's Doctor Dimento Glory's Applesauce CH. Walker's Chip off the Ole Block CH. Mandralyn Bucks County CH. Walker's The Devil Made Me Do It Walker's Kiss of Gold CH. Walker's I'm No China Doll Foonying Flash Gore-Don CH. Sparkle's Blackberry Wine Foonying Herself the Elf CH. Pousardien's Sammy O'Jack CH. Sparkle's Liza Jane CH. Pris' Black Jack CH. Sparkle's Blk Coral of the Sea Pousardien's Oprah Winfrey CH. Shorline's Coral Bay Buttercup Ch. Arnie's Black Jack of Velvet CH. Neu's Fancy Barbie Doll Ch. Bonjor Chipper Ch. Bonjor Pippin Ch. Bonjor Diana Prince Portly's P-Nut Butter N' Jilli Ch. Laurel's Honey N' Grits Ch. Alexander's Kiss My Grits Ch. Bonjor Yum Yum Troublemaker's Big Boss Man CH. Kendoric's Parker House Roll Q' N' QS Bonjor Maggie Poppins Ravencroft's Woodvale Flower CH. Q' N' QS Pop Secret Ravencroft's Mountain Laurel Ch. Bonjor Hominy Grits Q' N' QS Ravenvale Ms Bosslady REG. NAME: Ch. Coral Bay's Super Hero BREEDER(S): Carol Anne Giles TITLES: Michael Giles REG. # OWNER: Carol Anne & Michael Giles BREED: PUG CO-OWNER: Linda G. & John Rowell Jr. COLOR: Fawn BIRTH DATE: 04/16/2003 SEX: M ADDITIONAL INFORMATION: TR15466201 Signed: Date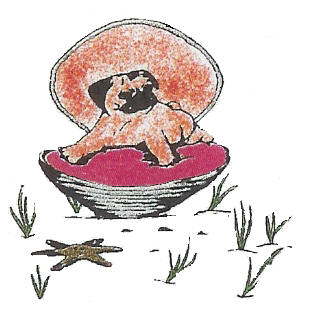 Flash is at stud to approved bitches...producing awesome bone, substance and incredible movement!